Double insert, inner compartment, lock, concealed/flat clasp, upper and lower pair of tube boxes, co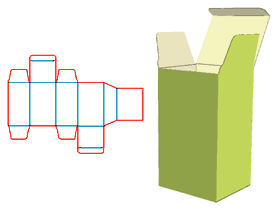 This is a very common box type--- tube type box with reverse tuck. For this box template, there are three tuckstructures in the box template library of Packmage CAD, And dustflaps has two offset ways.

Packaging structure design features:
1 One board after folding, and glued the two opposite edges, can form one tube body.
2 The adhesive position is extended and folded to form an inner support structure, a partition structure.
3 Opening on the upper and down sides for sealing end of the reverse tuck.
4 Tuck structures: sloved the problem that the box can be self-opened. There are lock structures between tucks and dustflaps.

Advantages and usages of this packaging structure:
1 Tube type box must be convenient to let products in, and can not be opened easily. It must be protective.
2 This packaging box structure usually used in the bottle packaging, for example: cosmetics packaging.

Key points of cosmetic packaging design:
1 Packaging should be colorful, has good texture with beautiful pictures.
2 Cosmetic packaging is usually folding carton, but also has compose type structure.
3 The purpose is to make consumers believe that they can be elegant, beautiful and acctractive.